https://comicbook.com/anime/news/book-ban-schools-america-manga/
It seems like school book bans are beginning to turn their focus to manga. According to a new report from Florida, a middle school in the eastern part of the state removed the manga from its library after receiving complaints. The manga is also facing a ban in the Elmbrook School District in Wisconsin, and the issue all stems from its violent school-centric story.
According to reports, Gifford Middle School in Florida removed three books of Assassination Classroom from its library. Jennifer Pippin, a local chair of Moms for Liberty, said the books were incredibly inappropriate to have in schools. "We don't want students to think it's OK to kill their teachers," Pippin shared.
For those unfamiliar with Assassination Classroom, the manga tells the tale of a middle school class who are determined to kill their homeroom teacher after learning the educator is a wanted alien. The kids discover their teacher is expected to destroy the Earth by the end of the school year, but problems arise when the class discovers the fugitive alien is an incredibly good teacher.
Of course, Florida is not the only state with a challenge against Assassination Classroom as mentioned. In Wisconsin, Yusei Matsui's manga is under fire from parents for supposedly promoting gun violence against teachers. Library executives pushed back against the claim, but the Elmbrook School District ultimately removed its copies of the manga under pressure. Other states like Virginia and North Carolina are also taking issues with Assassination Classroom as various counties have reported complaints against the title.
If you want to learn more about Assassination Classroom, the award-winning manga can be read in English courtesy of Viz Media. There are physical copies available while digital chapters are available to read on Manga Plus. For more details about the embattled manga, you can read the full synopsis of Assassination Classroom below:
"Koro Sensei has already blown up the moon. He promises not to do the same to the Earth on one condition…that he be allowed to teach a certain junior high school remedial class for one year. In addition, he'll allow the students to attempt to take him out at any time without retaliating. Whoever succeeds gets a huge cash reward from the Ministry of Defense. But now the students of Class 3-E are the only ones standing in the way of the destruction of the planet!"
Assassination Classroom on Wikipedia: Assassination Classroom - Wikipedia
Or, you can watch this video: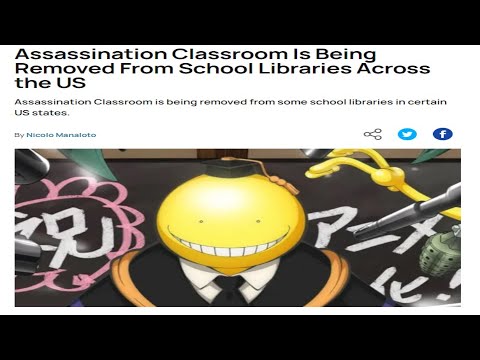 So, basically: