So, this article was published about two weeks ago, but I thought that it would be still worth posting here:
https://www.washingtonpost.com/dc-md-va/2023/03/10/library-vandalism-groomer-child-porn-charge/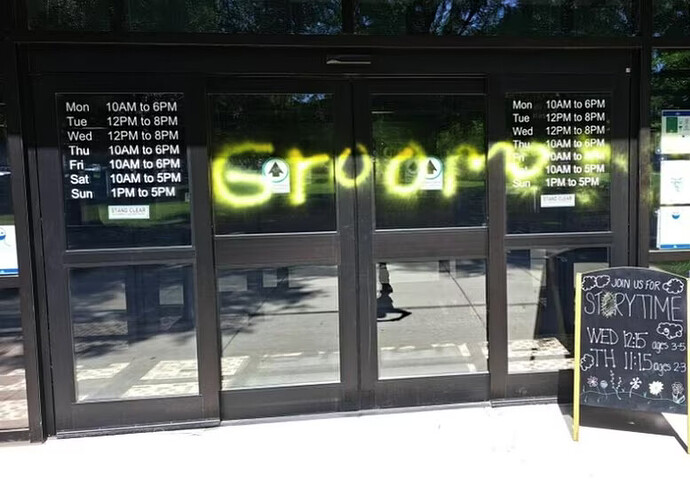 A 31-year-old Takoma Park man alleged to have spray-painted the word "groomer" on two Maryland library buildings last year in an act of hate directed at LGBTQ people has been charged with possessing child pornography, according to charging documents.
Charles Sutherland is charged with multiple counts of possessing child pornography in Montgomery County, according to online court records filed in February. He separately faces hate-crime and malicious destruction of property charges in Prince George's County in connection with the vandalism at two libraries in June 2022.
Police said in charging documents that Sutherland confessed to spray-painting the libraries, acts that were caught on surveillance video. During an interview with law enforcement last year, authorities allege he "made several comments expressing his disdain for the LGBTQ Community and the Prince George's County Memorial Library System while expressing no remorse for what he did."
An attorney listed online for Sutherland did not immediately respond to a request for comment. According to WUSA9, Sutherland was a librarian at Northview Elementary School in Bowie and has been on administrative leave since his arrest. Prince George's County Public Schools did not immediately respond for comment Friday night.
According to Prince George's County charging documents, Sutherland vandalized the Greenbelt Branch library on June 4, 2022 and the New Carrollton Branch library five days later, painting the word "groomer" on the front doors. The phrase, police said in the documents, was "believed to have been directed at the library because of their open support of the LGBTQ community."
The Prince George's County Memorial Library System received a letter signed by "Charles M. Sutherland" in 2021 that said, "I am asking you humbly to reconsider celebrating pride month next year. Or at least refrain from making pride displays for small children," according to the documents.
The letter opposed teaching sexuality to children and included a line that said, "And that reason is because, typically, they are too young to understand vital parts of sexuality, like the sex act, the differences between sexes, etc."
Investigators also learned of a Facebook account they alleged Sutherland used that "voiced his displeasure for the LGBTQ celebrations during this month of June (Pride Month)." Police said the spray-painting "can be inferred to be a reaction to the Prince George's County Memorial Library System continuing to celebrate Pride Month and continued support of the LGBTQ Community." Both library branches had Pride Month and LGBTQ fliers at the entrances of the libraries, police said.
According to Montgomery County charging documents, after Sutherland admitted to the vandalism in June, he consented to a search of his home. Police found "numerous diapers, children's dolls, and a child sized doll" in his bed, the documents say. Sutherland said he has no children or nieces or nephews.
"Sutherland also stated he had images consistent with child pornography on a laptop in his residence," police said in the charging documents.
Police found the laptop, which a digital forensics examination ultimately determined contained child pornography, authorities said.
Online court records list a trial for Sutherland in April in the child porn case, and in August for the hate-motivated vandalism.
-Note: So, basically…
Sutherland: "THE LGBTQ PEOPLE ARE GROOMING KIDS!!!"
Also Sutherland: Has diapers, dolls, a child-sized doll and even CSAM on his laptop.
…Projection much?