Nice to see the scientific community stand up in support of one of their own in the face of such drama.
I should really get around to looking at Allyn Walker's work.
It appears Walker has been put on administrative leave over the drama.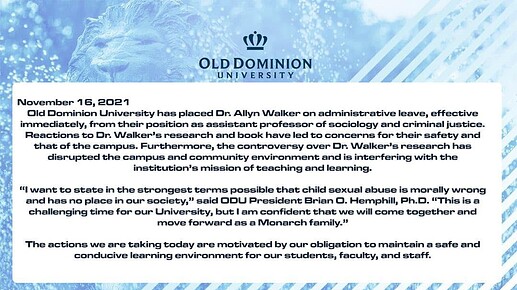 What a dreadful situation… They don't deserve this.
@terminus is there anything that can be done for them?
I know several people who already reached out to the university and there's talk of an organized group of researchers doing the same but I'm not sure if that's gone anywhere
Lets hope.
I'm worried about Walker, but also how this outrage will affect future research.
This whole situation is so unfair, there was literally a protest of students from the University against Dr. Walker. The comments from the current petition against them showed that clearly no one who is against Walker has watched the full interview, there are literally comments saying that they supports children being able to consent to adults and things like that. Good to see some (even if few) people defending the truth and fairness in this thing, I'll follow all folks from this screenshot on twitter. Anyway, it reminds me a lot of what happened with Mirjam Heine, Madeleine Van Der Burgen and others researchers, unfortunately there are many malicious people out there seeking to distort anything for creating false pedo-hysteria, even if it destroys the lives of good people who are clearly working for CSA primary prevention! Revolting!
I guess the right loves cancel culture now?
I call the Woke the Inquisitors of today, but that doesn't mean that the Inquisitors of yesterday have all died out.
They've always loved cancel culture. Hell, cancelling people they don't politically agree with has been their MO since the beginning. Just look at the Scopes trial, where conservatives tried to put a science teacher in prison for teaching science as it was understood.
Conservatives simply do not believe in free speech. The moment something is uttered that goes against their ideas or beliefs, whereas all these leftists who shriek against "normalization" and what-not can somewhat be reasoned with if you can convince them that whatever they're shrieking about is relatively or wholly harmless.
Do we have a link somewhere to what this person said to incur this controversy?
Excellent, I think you should send the email. We can't just act like nothing is happening and let all this extremely unfair public lynching and smear campaign happen to this profesor. We need to at least try to control the damage, if we fail completely, we will at least have a clear conscience that at least we stand for the truth and what is fair in this case. In the case of the other researchers I mentioned, there was hardly anyone who had the courage to stand up for them, we cannot let that happen again…
I sent it and posted it publicly on my MAP Instagram
I just going to repeat what I said once here. That's why there is almost no research on topics related to pedophilia, because if the results don't create a negative image of pedophilia, the researchers' careers will be at risk.
Them; I might not like what you say, but I'll defend to the death the right for you to say it.
Also them; Get these type of people fired! Silence them all! Waaah!
It's just awful that people get rewarded for being hypocrites!
Yes for some reason the right only defends freedom of speech when the person being canceled is a racists, sexists, homophobe or transphobe.
People are saying that Allyn Walker advocates for the use of actual child pornography because he believes such materials will help reduce rates of offenses.
I haven't had time to go through all of Walker's writings yet, but I have a high suspicion that this is either a miscommunication or a flat-out lie, considering that CSAM cannot exist unless an actual child was abused or exploited sexually, on camera, in order for it to exist, and allowing such material to exist would contradict any CSA prevention motifs in play here.
@terminus @elliot have either of you had time to review Walker's work? Can you possibly tell me what the reality of the situation here is?
If they are advocating for the dissemination of CSAM, then supporting Walker may be problematic.