Utah will be the latest state to try and pass a law which unconstitutionally and unjustifiably targets owners of plastic dolls. Laws targeting child-like sex dolls are very likely to be found unconstitutional and are a repugnant waste of resources and are bound to cause more pain and heartache, and are incompatible with American ideals of personal liberty and free expression.
A new bill in the Utah state legislature has been reported on by a local affiliate.
SALT LAKE CITY — A legislative committee on Wednesday gave unanimous approval to a bill that would prohibit the possession, purchase, or distribution of sex dolls made to look like minors or children.
HB108 sponsor Rep. Matthew Gwynn, R-Farr West, who also serves as the Roy police chief, said child sex dolls have been found in several recent investigations into child pornography or exploitation, and a representative from the Utah Attorney General's Office said there is a "high correlation" between possession of the dolls and investigations into child pornography and abuse.

"These cases so far have been few, but we do have them here in Utah and we've seen them here on … more than one occasion," said Nate Mutter, co-chairman of the Utah Law Enforcement Legislative Committee.

In some cases, Mutter said, suspects are technically savvy enough to hide their tracks online, and digital forensics teams aren't able to find evidence of child pornography or abuse during an initial search.

"What we do know about the child sex dolls, though, is that there's a high correlation between them being found in homes with child pornographic material or child sex abuse material," Mutter said. "So, in those cases where we may not have something available to us, this would be an additional tool to essentially take someone into custody and bring them into jail."

HB108 defines a child sex doll as "an anatomically correct doll, mannequin, or robot, with the features of, or with features that resemble those of a minor," that "is intended for use in sexual acts." The bill would make possession of a child sex doll a class A misdemeanor, with a mandatory fine of at least $2,500, and makes distribution of a child sex doll a third-degree felony with a mandatory fine of at least $10,000.

Mutter said the dolls can be customizable, and he has seen dolls of various ages in cases, including toddler and infant dolls.

"These are highly disturbing and, you know, we'd look at this as a child protection bill, and we need your support," he told the committee.

Unified police detective Tiffany Parker also spoke in favor of the bill.

"As someone who specializes in sexually motivated crimes against children, I'm here to say that we absolutely see these dolls in our communities here in Salt Lake County in Utah," she said. "This bill is absolutely relevant. It does happen, it happens now, and this is something that we fully support."

"(I) just appreciate the sponsor for bringing this forward, and for those who testified for the need of this," said Rep. Val Peterson, R-Orem. "It's sad that we need this type of legislation, but clearly it's needed in code."

HB108 was recommended unanimously by the House Law Enforcement and Criminal Justice Committee, and now goes to the full House for a vote.
Of course, right off the bat, these legislators are egregiously wrong in their rationale for legislation. Contrary to the claims espoused by these dolls, they harm no one, and cling to a supposed correlation with CSEM possession and doll possession as a justification for prohibition.
One of the bill's sponsors even claims that the bill is designed to empower law enforcement to target individuals for engaging with their sexual interests or preferences without actually having the evidence to do so. I shouldn't even need to explain why this rationale is bad, but I guess here it goes.
CSEM possession is rightfully illegal because a child was harmed and exploited for the materials to exist. Claiming that the interest in targeting the trade in CSEM warrants a prohibition on a sex toy that harms no one is not a valid justification for prohibition. Their views are colored by fear, an overwhelming misunderstanding of exactly what pedophilia is, and clearly are not informed as to the proper science behind doll owners and their users.
Even the claim that there exists a correlation between doll owners and CSEM possession is spurious and backed by a series of sensationalist articles. Yes, there have been instances where CSEM possession did coincide with doll ownership, but that's not a valid reason to label a sex doll as contraband.
The comments from the post seems to be completely devoid of scientific literacy, with some commenters invoking biblical language to characterize their distaste with the subject matter.

One comment seems to be conflicted, pointing out that such a law will likely violate established SCOTUS precedent on the matter, but given the current makeup of the court, anything is possible as it's already been observed that the current SCOTUS has no respect for precedent that does not conform to their arbitrary conservative vision. Conservatism truly is a disease.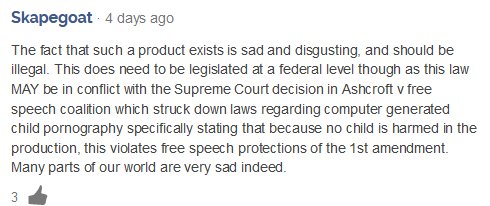 I cannot begin to express my distaste with the Utah state legislature, but considering that their elected US Senator, Mike Lee (R), presented a bill to essentially ban sexually explicit expression online, the battle for sensibility and rationality within Utah's public services may be more uphill than one would hope.
We truly are living in uncertain times. While we thought that the overall attitude towards these dolls has been relaxing, it seems that ignorance and prejudice will continue to dominate American politics.
I can only hope that groups like the American Civil Liberties Union will be available to fight against these abhorrent violations of American's civil rights and liberties.